newsletters
Dear parents, carers, staff, governors and friends,
This week at Brindishe Lee …
I don't want to let this academic year end without offering my thanks and appreciation to you all for your support for our three Brindishe Schools.
We now have over 1500 children attending a Brindishe School and I'm so proud of the teams of people who work at a Brindishe school day in, day out, giving their best efforts to make sure that all of our children have a really great education regardless of who they are, where they live or which school they attend.
In front of and behind the scenes, our teaching, support, business and premises staff all give above and beyond their contracted hours and go beyond their job descriptions to make our schools the best they can be.
In my role as an Executive Head, and as a member of various national networks, I hear and know a lot about other schools up and down the country. I hear and I know how far ahead and forward thinking are our three Brindishe Schools.
This year many teachers and school leaders have visited us. They come to see how we work together both in each school and across the federation of three schools. Our visitors always praise the Brindishe children's remarkable independence and how readily they engage with their learning.
This half term we hosted eight teacher leader colleagues from Kentucky in the USA. They told us how impressed they were by our open and very inclusive schools. They wanted to know how, with such a diverse community, we had built the evident trust and partnership that we have with parents and careers.
Last half term we hosted the leadership team from a group of Primary Academy schools in Greenwich. After their visit it they wrote:
"What struck us all was the strength of relationships between leaders, staff and children and how it felt very much like one school on three sites. The hard work that has gone into promoting all forms of diversity was a key strength and a very visible part of each school in the environment and also through how the children interact with one another. We loved all the learning spaces and the cross age collaboration where the children learnt from one another.

You should all be very proud of the school community you have nurtured and grown as it is a lovely, happy place in which to learn."
I was most touched, however, when reading through all the feedback from Brindishe parents and carers responding to their children's end of year reports. I'd like to share one with you – from a parent of a Year 2 child:
"Thank you very much for the past year. It's been a tremendous learning curve with plenty of interesting subjects. I recently went through my child's work for the past year and noticed - and was reminded - about how her writing has changed. It is very encouraging that she is now working at greater depth and I'm pleased to know the extra support has helped this progress. And last, but not least, diversity. We've had many discussions at home about how to treat others and can expect to be treated by others, about what matters inside and outside, about what we do and say and so on. I am so touched to learn that my child feels so strongly about this and is now able to express it."
The reason why I liked this report response so much is because it captures what is, I think, the essence of Brindishe; yes academic progress is important and is recognised; yes, our staff knew where extra help was needed and they gave it and it worked. But of equal importance this child learnt about equality and diversity. She learnt to express how she wants to be treated and how she will treat others. It sounds to me like a Brindishe child - and so it is with this thought that I wish our year 6 children good luck in their important next steps, farewell to all families who now leave our community and to everyone, a peaceful and happy summer.
Dame Vicki Paterson DBE
Executive Head, Brindishe Schools
Dear parents, carers, staff, governors and friends
This year at Brindishe Lee …
What a fabulous year we have had at Brindishe Lee.The children have learnt about life in Roman times, the second world war, friction, seaside habitats, space, plants and growing, building pyramids, rivers, Giacometti, Andy Warhol and much, much more! They have overcome their fears on school journey, considered their own resilience, competed against others in sport, learnt to win and lose, worked independently, expeienced mindfulness, been challenged, been creative, questioned and debated and done a great job learning and enjoying themselves.
It's time for everyone to take a well earned rest, enjoy being with family and friends, enjoy the summer and then return in September refreshed and ready to learn something new.
A very big thank you to all the volunteers who have supported our children this year. We really appreciate your commitment to the children and for the difference you make when you work in school.
Thank you too to all parents / carers who have accompanied the classes on school visits this year; without your time and support we are unable to go out and discover learning beyond the school.
This week …
Well done, and thank you, to Year 6 Lilac and Year 6 Camellia for putting on a very funny and lively leavers' performance on Wednesday. We send our Y6 on to their secondary schools knowing what a fantastic effort they have put in to learning whilst at Brindishe Lee and wish them every success as they start their new chapters in September.
End of Year reports
Thank you for the positive responses to your children's reports we have received so far. During the autumn term we will have our 'Meet the Teacher' opportunity where you can discuss all the 'next steps' for your child with their new class teacher.
Animal Agents
Don't forget to visit Manor House Gardens and the library this holiday to try this year's Lewisham Libraries Summer Reading Challenge … 'Animal Agents!' It is totally free and, to get started, all your child has to do is sign up at their local library. Please visit: www.animal-agents.org.uk or contact libraries@lewisham.gov.uk for more information
Dates for your diary
04/05 September: STAFF INSET DAYS
06 September: NEW SCHOOL YEAR
Fantastic attendance
Top attendance this week …
Year 1 100%
Year 5 99%
Year 6C 98%
Whole school attendance this YEAR … 96.9%
Finally …
Please see below information about a free cycle checking and safety opportunity from Lewisham.
For information about Bikeability training for children this summer, check … https://www.cycleconfident.com/sponsors/london-borough-of-lewisham/#events
My very best wishes to all families for a lovely and relaxed summer holiday. Enjoy the sun and we look forward to seeing you all in September.
Lisa Morris,
Headteacher
Dont forget you can translate this newsletter into more than 100 different languages on our website: www.brindishelee.lewisham.sch.uk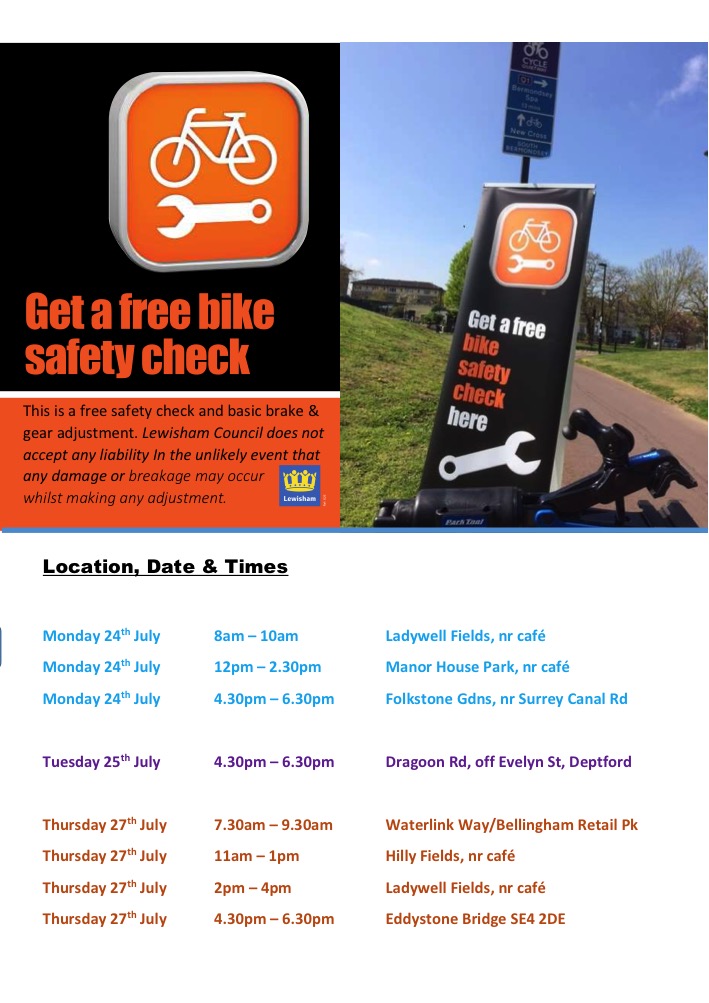 | DATE & TIME | COURSE | LOCATION | COST |
| --- | --- | --- | --- |
| THURS 03 AUGUST - 09:00 | Child Learn to Ride Group Training | Downham Health and Leisure Centre | FREE |
| FRI 04 AUGUST - 09:30 | Child Learn to Ride Group Training | Downham Health and Leisure Centre | FREE |
| MON 21 AUGUST - 09:30 | Child Learn to Ride Group Training | Downham Health and Leisure Centre | FREE |
| MON 25 AUGUST - 14:00 | Child Learn to Ride Group Training | Downham Health and Leisure Centre | FREE |
| TUES 22 AUGUST - 09:30 | Child Learn to Ride Group Training | Downham Health and Leisure Centre | FREE |
| WEDS 23 AUGUST - 09:30 | Child Learn to Ride Group Training | Downham Health and Leisure Centre | FREE |
| THURS 24 AUGUST - 09:30 | Child Learn to Ride Group Training | Downham Health and Leisure Centre | FREE |
| FRI 25 AUGUST - 09:30 | Child Learn to Ride Group Training | Downham Health and Leisure Centre | FREE |